Cheri A. Becker
BSHSM '94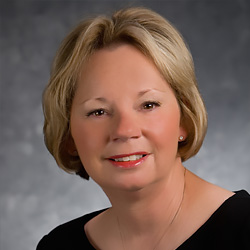 Cheri Becker holds the position of vice president leadership development and community engagement for Greater Fort Wayne, Inc.  Becker previously served as executive director of Leadership Fort Wayne, regional vice president of JobWorks, Inc., and executive director of Invent Tomorrow, Inc. She is the past president of the Northeast Indiana Business Assistance Corp., and past executive director of the Small Business Development Center of Northeast Indiana.
Becker is an Indiana Tech alumna, having earned a Bachelor of Science in Human Services Management in 1994 along with certificates from Ball State University's Economic Development Academy and Center for Entrepreneurial Resources. Becker is a 1988 graduate of Leadership Fort Wayne and served as Leadership Fort Wayne's Alumni Association president in 1994 and '95.
Becker's current volunteer service includes serving on the boards of The History Center, the Fort Wayne Museum of Art, and Fort Wayne Parks and Recreation Board of Commissioners. She is past chair of the YWCA Circle of Women Steering Committee. She has served on the organizing and founding committees to establish the University of Saint Francis Family Business Center and the Northeast Indiana Entrepreneurial Alliance. Becker served as the Chief Executive for Imagine Nation, a Children's Museum in South Carolina, and as the director for internal communication and community involvement at Sterling Diagnostic Imaging, Inc.
Becker worked as an independent contractor providing strategic planning, grant writing, fund development, marketing and planning services to a variety of clients including the City of Fort Wayne, the Downtown Improvement District, the 431 Foundation, and the Non-profit Association of Northeast Indiana. Becker is a co-founder of the Fort Wayne Area Public Safety Foundation, Inc., is on the board of the Indiana High-speed Rail Initiative and is a director on the Board of the Northeast Indiana Non-profit Association.
Becker's past community involvement has included Home for New Beginnings, Opportunity Greenville, United Neighborhood Economic Development Corp., Speech Hearing and Learning Center, South Carolina Chapter Nature Conservancy, Three Rivers Festival, Community Development Corporation of Fort Wayne, Citizen's Advisory Committee of the City of Fort Wayne, Urban Land Institute Task Force of the Fort Wayne Enterprise Zone Association, Three Rivers Literacy Alliance, Northeast Indiana Entrepreneurial Business Alliance, Fort Wayne Ballet.
Becker has received recognition as Who's Who In Finance & Industry, Who's Who of American Women, Who's Who in America, and Fort Wayne Urban League's Outstanding Community Leadership Award.
Becker and her husband, Mark, reside in Fort Wayne.