Manuel C. Peña-Morros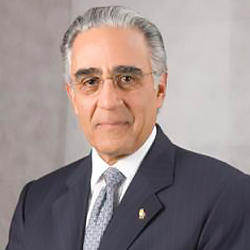 Mr. Peña-Morros is a Trustee of Indiana Institute of Technology, board member of Valores León a brokerage house in the Dominican Republic, board member of insurance company, Seguros SURA, S.A., and retired Chairman of Banco Leon.
Mr. Peña-Morros began his banking career in 1970 in the Dominican Republic with The Chase Manhattan Bank and during his twenty eight year career with Chase, held several executive positions in Latin America including General Manager in Mexico, Puerto Rico and Colombia, Regional Manager for Venezuela and Colombia, and Regional Manager for the Caribbean and Central America.
He retired from Chase in 1998 and became the Executive Vice President of the Credicorp Financial Group in Panama and in 2001 returned to his country, the Dominican Republic to manage Banco Profesional, which had been recently acquired by the León family to diversify from the beer and tobacco businesses.
In 2003 and as a result of an economic and banking crisis in the Dominican Republic, Banco Profesional acquired Bancredito, one of three failed banks, which merged with Profesional and becoming Banco Leon. Mr. Peña-Morros was appointed President of the merged bank and elected to Chairman in 2009 until his retirement in 2012.