Michael H. Wood, M.D.
BSCHEM 1968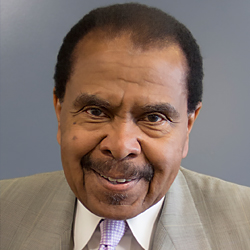 Dr. Michael H. Wood, BSCHEM 1968, is medical director of the Bariatric Surgery Program at Harper University Hospital and of the American Bariatric Medicine Institute. Wood is one of the leading bariatric surgeons in the country and with colleague Dr. Jim Sapala holds a patent for Micropouch gastric bypass surgery. Wood is also a clinical professor of surgery at Wayne State University in Detroit, Mich.
He has earned numerous honors and awards including Best Doc, Inc. HOUR Magazine, Detroit, Mich.; Faculty Research Award, Wayne State University; Theodore McGraw Clinical Faculty Teaching Award, Department of Surgery, Wayne State University; and The Michigan Health & Hospital Association, Physician Leadership Award for outstanding community service. He is an active member of the American Society for Metabolic and Bariatric Surgery (ASMBS), a Fellow of the American College of Surgeons (FACS), Michigan State Medical Society, and Wayne County Medical Society.
He and his wife, Tina, live in Bloomfield Hills, Mich.