About President Karl W. Einolf, Ph.D.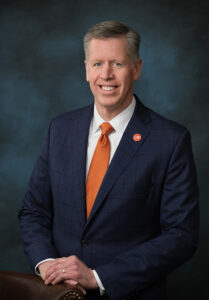 Karl W. Einolf, Ph.D., was appointed president of Indiana Tech by its board of trustees on December 5, 2016, and began his tenure as president on July 1, 2017. Dr. Einolf is the university's ninth president since its inception in 1930.
Since his arrival in 2017, Dr. Einolf's visionary leadership facilitated significant improvements in Indiana Tech's academic curriculum, diversity initiatives, athletic programs, campus facilities, and technological resources.  Dr. Einolf led a comprehensive and inclusive strategic planning process to create the blueprint for Indiana Tech's next level of excellence leading up to the university's 100-year anniversary in 2030.  The strategic plan, and its associated capital campaign, are centered on the university's ambition to be Building a Century of Excellence.
During Dr. Einolf's tenure, Indiana Tech continued the transformation of its Fort Wayne campus.  He oversaw the $3 million renovation of the Abbott Center administration building in 2018 that included the creation of a new Welcome Center for the campus.  Dr. Einolf spearheaded the university's 2018 purchase of the Donald Ross golf course on the south east side of Fort Wayne and the $15 million construction of the Warrior Park athletic complex at the site, featuring an artificial turf collegiate softball field, a multi-purpose building, and a state-of-the-art outdoor track.  He also directed the 2019 construction of the $10 million 100-bed residence hall, Summit Hall, that includes a ground-level retail space with a convenience store, a bistro restaurant, and a coffee shop.  He is currently overseeing the $21 million expansion and renovation of the Zollner Engineering Center that began in 2021 and will result in a 70,000 square foot, three-floor facility that will be complete in the fall of 2023.  The project will be the home for Indiana Tech's growing programs in engineering, computer sciences, cybersecurity, health sciences, and robotics.
Dr. Einolf led the development of over thirty new and improved academic programs and educational opportunities for students.  Under his leadership, Indiana Tech significantly increased its online presence and introduced new online programs to serve over 10,000 adult and non-traditional students all over the country and the world.  Indiana Tech also increased the number of military students it serves and continues to be recognized as a military-friendly and yellow-ribbon university.
Dr. Einolf came to Indiana Tech from Mount St. Mary's University in Emmitsburg, Maryland, where he served since 2012 as dean of the Richard J. Bolte, Sr. School of Business. During his tenure, Einolf also served as acting president at Mount St. Mary's from February to June 2016 and helped the university heal from a national crisis surrounding the resignation of its previous president.
Dr. Einolf joined Mount St. Mary's as a full-time faculty member in 1998; he was tenured and promoted to associate professor in 2004, and was promoted to the rank of professor in 2010. He is a recipient of the university's Richards Award for Teaching Excellence, and he served for six years as the director of the university's honors program. Dr. Einolf taught 17 different courses during his time at the Mount.
Dr. Einolf has a B.S. in mathematics with a minor in economics from Penn State University, an M.S. in business from Johns Hopkins University, and a Ph.D. in business and economics from Lehigh University. A renowned scholar, he has published papers in numerous business and economics journals. He has also presented his work at many national and international conferences.
Prior to entering higher education, Dr. Einolf spent five years working for the Sprint Corporation in Carlisle, Pennsylvania, and in Kansas City, Missouri, in various finance, marketing, and human resource functions.
Dr. Einolf has been married to Maria Einolf since 1990 and, together, they are the proud parents of sons, Nicholas and Thomas.