About President Karl W. Einolf, Ph.D.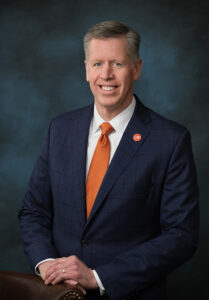 Karl W. Einolf, Ph.D., was appointed president of Indiana Tech by its board of trustees on Dec. 5, 2016, and began his tenure as president on July 1, 2017. Dr. Einolf is the university's ninth president since its inception in 1930.
Dr. Einolf came to Indiana Tech from Mount St. Mary's University in Emmitsburg, Maryland, where he served since 2012 as dean of the Richard J. Bolte, Sr. School of Business. During his tenure at Mount St. Mary's, Einolf also served as acting president of the university from February to June 2016.
While dean of the Bolte School of Business, Dr. Einolf helped it navigate through a strategic planning process which reaffirmed national accreditation with the International Assembly for Collegiate Business Education (IACBE). He raised funds to renovate classrooms, create student collaboration spaces, enhance academic programs, support student scholarships and co-curricular activities, and support faculty professional development. He formalized external relationships with business and community leaders through the development of a Dean's Council and an Executive in Residence program. He developed new international study-abroad opportunities for Bolte School students, and he was instrumental in developing new academic programs in the Bolte School's traditional, adult-accelerated, and graduate programs.
Dr. Einolf joined Mount St. Mary's as a full-time faculty member in 1998; he was tenured and promoted to associate professor in 2004, and he was promoted to the rank of professor in 2010. He is a recipient of the university's Richards Award for Teaching Excellence, and he served for six years as the director of the university's honors program. Dr. Einolf taught 17 different courses during his time at the Mount.
Dr. Einolf has a B.S. in mathematics with a minor in economics from Penn State University, an M.S. in business from Johns Hopkins University, and a Ph.D. in business and economics from Lehigh University. A renowned scholar, he has published papers in numerous business and economics journals. He has also presented his work at many national and international conferences.
Prior to entering higher education, Dr. Einolf spent five years working for the Sprint Corporation in Carlisle, Pennsylvania, and in Kansas City, Missouri, in various finance, marketing, and human resource functions.
Dr. Einolf has been married to Maria Einolf since 1990 and, together, they are the proud parents of sons, Nicholas and Thomas.