Dena M. Jacquay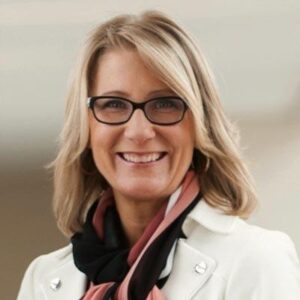 Dena Jacquay is Parkview Health's Chief Administrative Officer. Since joining the organization in 2000, she has served in several roles, supporting and driving the health system's culture, both within Parkview and within the communities Parkview serves.
Dena oversees Parkview's administrative and support services, including public safety, marketing/communications, business development/strategic planning, human resources, construction, and support division. Dena also leads Parkview's community health and outreach efforts, equity and inclusion, and patient experience, which includes chaplaincy, volunteers, patient advocates and advanced care planning.
Dena has a bachelor's degree in Organizational Leadership and Supervision from Indiana University-Purdue University Fort Wayne, and a master's degree in business administration from Western Governor's University.
Dena serves on several non-profit community boards, including Ascend Indiana, Blessings in a Backpack, Early Childhood Alliance, Easterseals Arc of Northeast Indiana, Indiana Tech, and Troy School. She is also a member of the "Tapestry: A Day for You" Steering Committee, the Northeast Indiana Regional Partnership's Regional Opportunities Council, and the Indiana Hospital Association Workforce Development Committee. For the last 16 years, she has also served as a community volunteer with Audio Reading Service, part of the Allen County Public Library, which allows the visually impaired to hear the written word.