Patricia Schaefer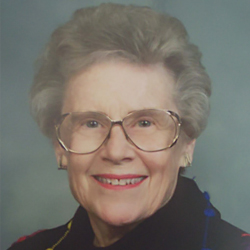 Patricia Schaefer served as a member of the Board of Trustees for the Indiana Institute of Technology from 1992 to 2011. Schaefer was Director for the Muncie Public Library from 1959 to 1986. Her other professional experience includes employment with Columbus Public Library Assistant, Fort Wayne Fine Arts Foundation Secretary, Home Telephone Company, WOWO and U.S. Rubber Co.
Schaefer earned an undergraduate degree in music from Northwestern University, a Master in Music from the University of Illinois, and a Master in Library Science from the University of Michigan. In 2003, she was awarded an honorary Doctorate of Library Science from Indiana Tech.
Some of Schaefer's civic and professional involvement includes: Wapehani Co. Girl Scouts U.S.A.; Franklin Electric Company; Milton S. Eisenhower Library at Johns Hopkins University; President's Council, Berea College; and Advisory Council College of Fine Arts, Ball State University.