Richard "Dick" J. Schul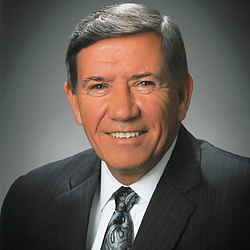 Dick Schul is a consultant for Emerson Climate Technologies. He started his career with Emerson in 1981 and held positions of increasing responsibility throughout his tenure, many of which were at an executive level. Schul earned a Bachelor of Science in Mechanical Engineering from Indiana Tech and a Master of Business Administration from the University of Dayton.
Schul is an active member of the St. Louis community. He has served on the board for the Maryland Heights Chamber of Commerce, St. Joseph's Institute for the Deaf, and the Missouri Make-A-Wish Foundation. He has been chairman for St, Joseph's Institute for the Deaf, North County Friends of Scouting, and Boy Scouts of Greater St. Louis, and the Make-A-Wish Foundation eastern Missouri chapter.