Patricia Schaefer
Trustee Emeritus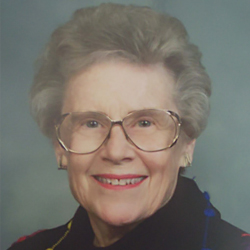 Patricia Schaefer was Director for the Muncie Public Library from 1959 to 1986. Her other professional experience includes employment with Columbus Public Library Assistant, Fort Wayne Fine Arts Foundation Secretary, Home Telephone Company, WOWO, and U.S. Rubber Co.
Schaefer earned an undergraduate degree in music from Northwestern University, a master's in music from the University of Illinois, and a master's in library science from the University of Michigan. In 2003, she was awarded an honorary doctorate of Library Science from Indiana Tech.
Schaefer's civic and professional involvement includes:
The Nature Conservancy, Indiana
Altrusa International, Inc. of Muncie
Wapehani Co. Girl Scouts U.S.A
Community Foundation. Muncie and Delaware County
Franklin Electric Company
Milton S. Eisenhower Library at Johns Hopkins University
Muncie Matinee Musicale
Indiana Renaissance Fair
Minnetrista Cultural Center
ARC, Hoosier Heartland Chapter
American Red Cross, Hoosier Heartland Chapter
Muncie YWCA
President's Council, Berea College
Masterwork Chorale
Delaware County Council for the Arts
Midwest Writers' Workshop
Advisory Council College of Fine Arts, Ball State University
Indiana Humanities Council, WIPB-TV
Muncie Symphony Association
Muncie Symphony Orchestra
National League of American Pen Women, Midwest Writers Workshop
WIPB Public Television Board of Directors
Mayor's Book Committee and the Indiana Humanities Council
Schaefer's interests include writing, public broadcasting, education, and the humanities.