Richard "Dick" J. Schul
BSME 1969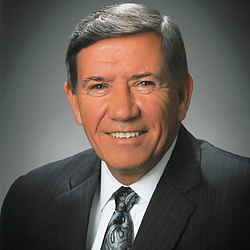 Richard Schul recently retired from Emerson Electric as group vice president of Emerson Climate Technologies. He started his career with Emerson in 1981 and held positions of increasing responsibility throughout his tenure including: marketing manager, director of marketing and vice president of marketing for Emerson Motors through 1989. In 1990, he was named president of Alco Controls Division of Emerson; in 1997, he was named president of Emerson's Air Moving Motors Division; in 1998, he was named president of Specialty and Air Moving Motors; and in 2000, he was named group vice president of Emerson's Commercial Industrial Motors group.
Schul is an active member of the St. Louis community. He belongs to Ascension Parish in Chesterfield, where he served as parish council president in 1996-1997. He served on the board of the Maryland Heights Chamber of Commerce in 1994-95. He particularly enjoys involvement with charities in the St. Louis area that support children. He has served on the board of directors for St. Joseph's Institute for the Deaf in Chesterfield since 1992, where he was chairman in 1999-2001. He served as the North County Friends of Scouting chairman and district chairman for the Boy Scouts of Greater St. Louis from 1997-2003. He joined the board of the Missouri Make-A-Wish Foundation in 2004 and is currently serving as chairman of the St. Louis (eastern Missouri) chapter.
In addition to his engineerig degree, Schul holds an MBA from the University of Dayton.
Schul and his wife, Geralyn (Geri) have two adult children.